Accommodation, Bed and Breakfast en Haute-Vienne
Add to my travel notebook
Register your touristic spot en Haute-Vienne it's free (in French)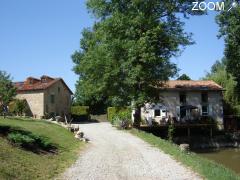 TVORG-8584
Update informations
Low season of 45€ to 60€

Average season of 45€ to 60€

High season of 45€ to 60€

School holidays of 45€ to 60€

Restaurant menu 18 €
Disponibilités
ARCHER
Le Moulin de la Fauvette
87520 Oradour-sur-Glane (Haute-Vienne)
Phone : 05 55 03 37 96
- Mobile phone : 06 17 49 11 72

http://www.lemoulindelafauvette.com
We are situated in the heart of La Fauvette, a small hamlet only 3 km from the very historic town of Oradour sur Glane in the region of the Limousin.
Mike and Amanda welcome you to La minoterie, the old Millers Cottage, an independant house offering five comfortable rooms that are situated next to Le Moulin de la Fauvette, the old working mill.
La Minoterie benefits from a priveledged location surrounded by 4 hectares of woodland and natural beauty.This old millers cottage has been tastefully and sensitivly restored mainting many of it's original features such as the fireplace, original stair case and oak beams.
It has recently been refurbished offering accomodation of 5 charming bedrooms and ensuite bathrooms, your own private living room with TV, kitchen/ dining room. Dogs are welcome.
Register your touristic spot en Haute-Vienne it's free (in French)