Art and craft, Art, Craft and Gallery en Haute-Vienne
Add to my travel notebook
Register your touristic spot en Haute-Vienne it's free (in French)
See accommodation nearby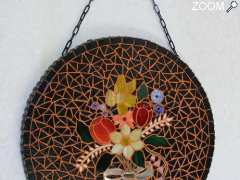 TVORG-764451
Update informations


Disponibilités
Faucher Lydia
Le petit Machetard
87270 Chaptelat (Haute-Vienne)

http://lydiavitrail.canalblog.com
Artisan Mosaicist and vitrailliste. Workshop in the country lying on the hiking trail hiking Saint Eloi.
Creating mosaic, paintings, mirrors, tables, murals...
Stained glass creation, technical lead, fusing (merger of glasses between them without a network of lead).
Internship hobbistes (mosaics and stained glass) adults, children (from 10 years).
Vocational training in mosaic.
Register your touristic spot en Haute-Vienne it's free (in French)