Accommodation, Bed and Breakfast en Corrèze
Add to my travel notebook
Register your touristic spot en Corrèze it's free (in French)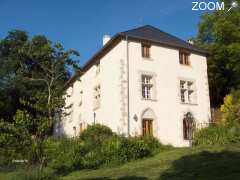 TVORG-6062
Update informations
Low season of 55€ to 75€

Average season of 55€ to 75€

High season of 55€ to 75€

holiday 350 €

Restaurant menu 18 €




Disponibilités
Domaine de Peyrafort
Domaine de Peyrafort - Tulle
19000 Tulle (Corrèze)
Phone : 05 55 299 358
- Mobile phone : 06 16 71 12 72

http://www.peyrafort.com
Frances and Ian Black welcome you to the oldest and most beautiful privately owned property in Tulle, Corrèze. The substantial Manoir XV Domaine de Peyrafort also boasts an impressive 550 year old history & an intriguing association with King Louis XV of France.
Manoir XV is on the north periphery of the Ville de Tulle and enjoys a countryside position set in 3H of gardens and parkland with the convenience of the Town centre being very close by - 3 minutes (2 and half kilometres) and space for ample free, private parking.
Corrèze is an ideal base to explore SW France and borders the regions of the Dordogne, Lot, Cantal and Puy de dôme.
THE MANOR
The Manoir XV Domaine de Peyrafort offers a distinctive style and quality of its own, starting with an oak & lime tree driveway which sweeps you majestically to the Manor House. The carefully composed interior accentuates the 550 year heritage of this newly refurbished home.
Peyrafort Hill itself was the actual vantage point South before reaching the major Roman settlement at Tintignac, Naves; the translation from old French of Peyrafort meaning 'Fort of High Stones'. It is likely a dwelling existed here at this time, as the old Roman road leads directly to the Manor.
The Archive of Tulle has traced evidence of the current building back to 1445 and records suggest the first occupiers also shared the name Peyrafort.
In 1588, Pierre de Fènis was Seigneur (Sir) de Peyrafort. This family name was retained throughout the 17th century and in 1663 one of his descendents Pierre de Fènis was made custodian of the 'Kings Seal' at the Royal seat of Tulle. Around 1725 when, following a family feud, the title and 'Fief de Peyrafort' meaning 'Stronghold of High Stones' was won by Seigneur Philip Louis Fortier 'receiver of land from the King'. In 1772, his son Antoine Fortier received power of attorney from King Louis XV in recognition of his loyal service, thus taking over the title and the stronghold 'Fief de Peyrafort'.

Register your touristic spot en Corrèze it's free (in French)