Sport and leisure, Nautic sports en Haute-Vienne
Nautical sports

Initiate in nautical activities that coastal region offers you. The sail, the surfing, the sand yacht or the kitesurf will carry you to the rhythm of tides and of winds up to an experience rich in feelings.

In calm waters or in white-waters, attract the experience of the canoe and let come, paddle at the hand, on clear waters of these rivers of character. That you choose a gentle or tumultuous descent, you will be able to use a sumptuous natural setting.
Register your touristic spot en Haute-Vienne it's free (in French)
LECOMTE Jean-François
La Maison Neuve 87800 St Maurice les Brousses
87800 Saint-Maurice-les-Brousses (Haute-Vienne)
Want to spend a pleasant moment on the lakes and rivers of the Limousin? Advice needs to begin or advance?
It is with pleasure that I accompany you, shore or by boat, to help you fish ...

cédrick Plasseau
3 rue emile frange
87500 Saint-Yrieix-la-Perche (Haute-Vienne)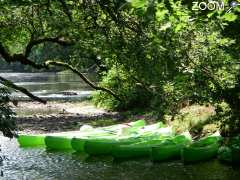 laroche jean-claude
2, avenue F. Mitterrand
87410 Le Palais-sur-Vienne (Haute-Vienne)
Phone : 05 55 35 32 77
- Fax : 05 55 35 32 77
Amis de tous les horizons, venez nous rejoindre ! Nous saurons vous guider au gré de vos désirs et vous faire partager des moments de détente et de découverte au fil des rivages enchanteurs ...

Register your touristic spot en Haute-Vienne it's free (in French)