Heritage, visit, Museum en Haute-Vienne
Museums and exhibitions

It is the emphasising of art and of culture. Museums in permanent or temporary exhibitions, here is so many choices allowing you to open in classical or contemporary art. Many thematic museums are to discover, they pay tribute to a job, a site or to a character.
Register your touristic spot en Haute-Vienne it's free (in French)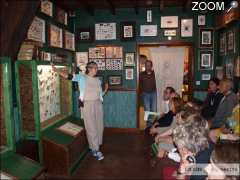 La Cité des Insectes
Chaud
87120 Nedde (Haute-Vienne)
La Cité des Insectes, NEDDE (87), in the heart of the Regional Natural Park of Millevaches in Limousin.
Discover the surprising world of insects in this entomological museum. There are more than ...

Register your touristic spot en Haute-Vienne it's free (in French)