Accommodation, Campings en Creuse
Camping

To choose the camping, it is to be certain to share a moment close to the nature. You will have the choice between the tent for the most rash, the caravan for the accustomed and the bungalow or the mobil-home for those who wish more comfort. The charm of the camping, it is all above the meetings, the cheerfulness of the vacationers and all the good memories in the future.
Register your touristic spot en Creuse it's free (in French)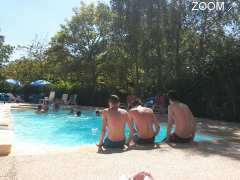 Cotonnec Florence
Allée du Cheix 23300 LA SOUTERRAINE
23300 La Souterraine (Creuse)
Stay 100% nature stay open year-round in. Camping watercolor of the Limousin, in the Creuse, at La Souterraine by the pond of the Wolverhampton, you guarantee full air and greenery.
Our ...

COURAUD THIERRY
ÉTANG DE LA CAZINE
23300 Noth (Creuse)

Register your touristic spot en Creuse it's free (in French)